Modern Self-Contained Certified Campervans For Sale
Our modern campervans for sale are all Toyota Estimas between 2000 and 2001. These are the modern looking 2-side-sliding door model with the engine located in the front under the bonnet. The majority of our vans are Toyota Estimas because they are reliable, easy to drive and have a lot of room in the back of them making them perfect for backpacker campervans.
The modern campervans for sale are in our Silver Campervan range, these have an overall cost of $4,490 for up to 9-months. On top of this if you can return it by the end of December then we will give you an extra $300 so it will have an overall cost of $4,190! The overall cost is the difference between what you pay when you buy the van and what we pay when we buy it back. For Silver vans you pay $7,690 and then after your travels we pay $3,200 unless you can return by the end of the year and we will pay $3,500.
These vans usually must be sold back to us at the end of your travels at the pre-agreed price unless you have arranged to buy the van outright. Having a buy-back guarantees means you don't need to worry about how to sell it at the end of your trip; you can just drive it to us, hand over the keys, have you money paid to you and then be on your way.
Our Silver Campervans are good vans but they may not look as nice as our Gold Campervans and they may also be higher km. Please contact us to discuss your backpacker campervan requirements. Unfortunately all our Silver level campers are now booked and sold for the 2022/23 session.
FGY345
Toyota Estima 2001, Silver, 2.4l, Petrol, Automatic, approximately 268,500 km, rego FGY345. Modern looking 2-side-door model, 2-seater, 2-sleeper. Self-contained certified. (ref 29 - FGY345)
Sold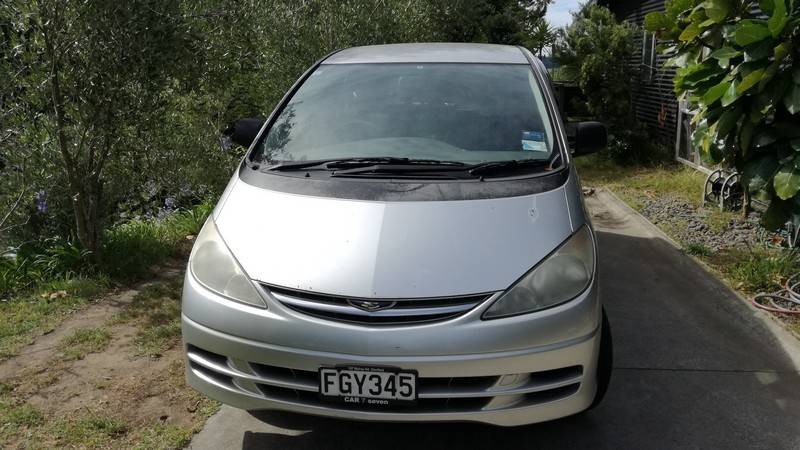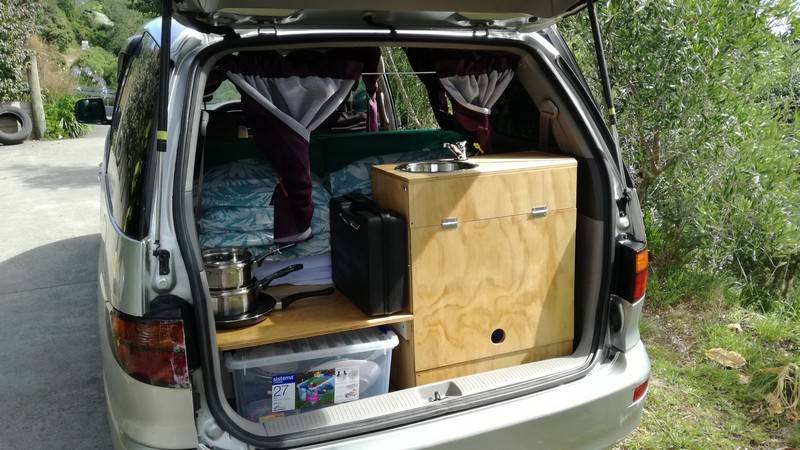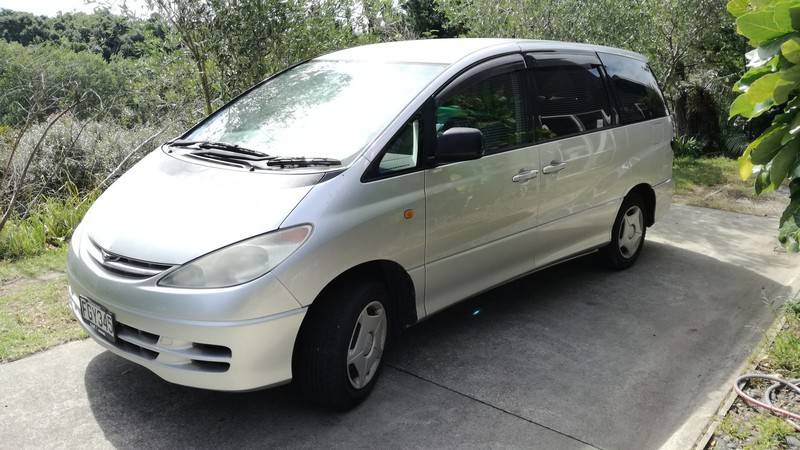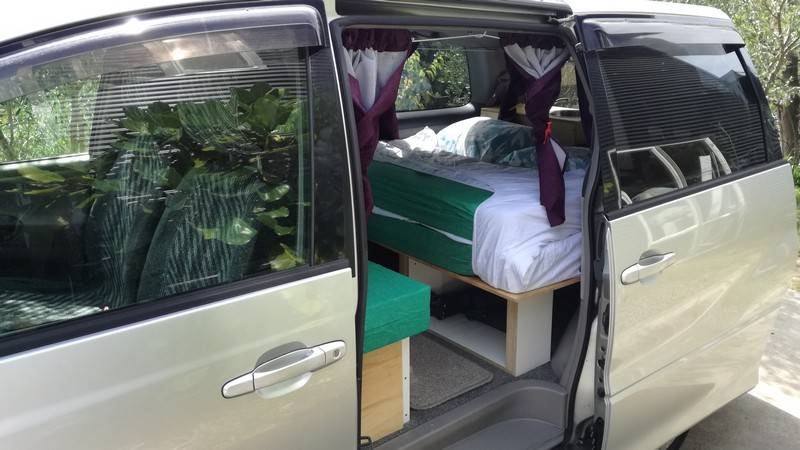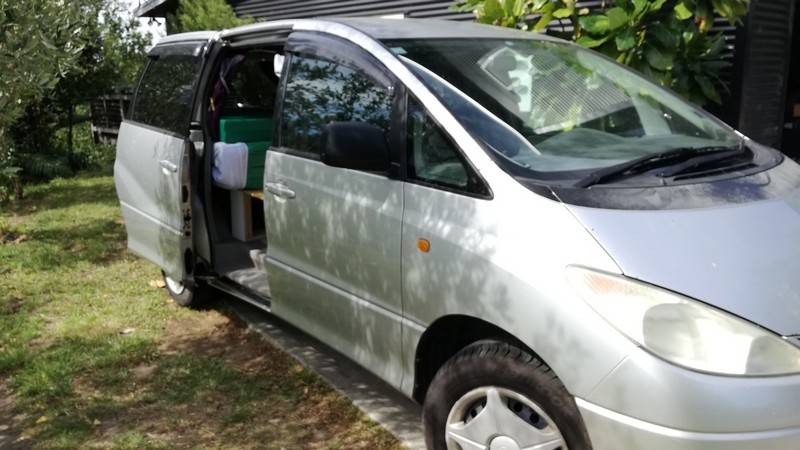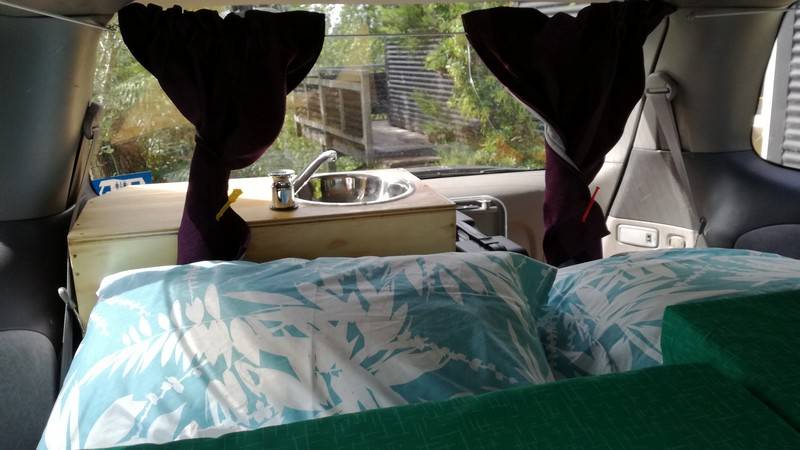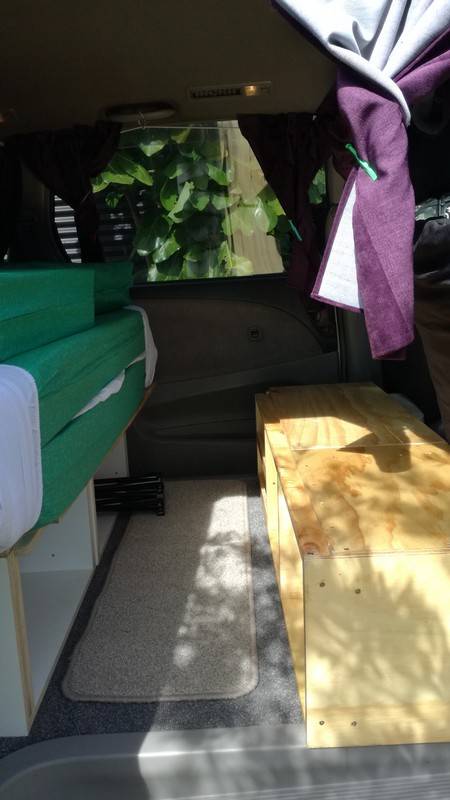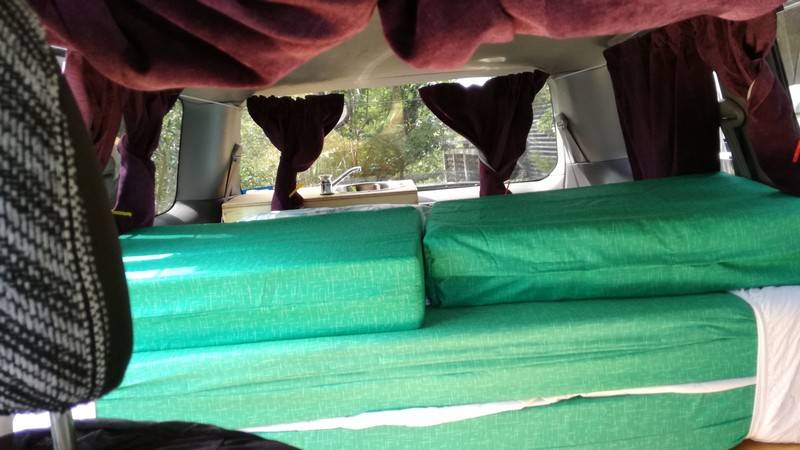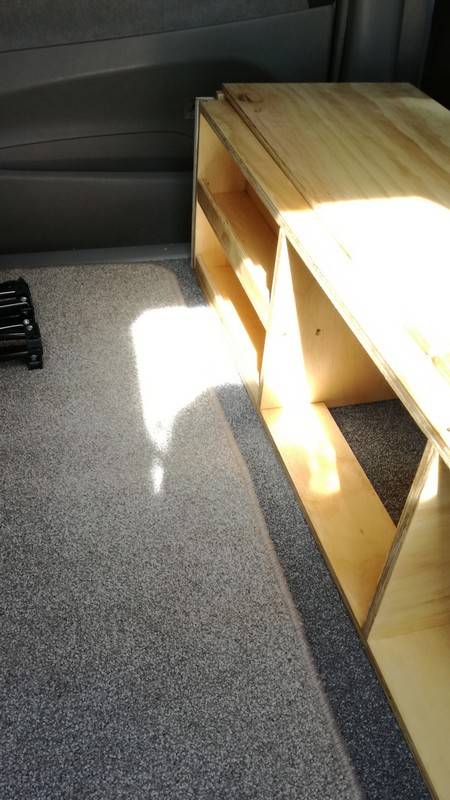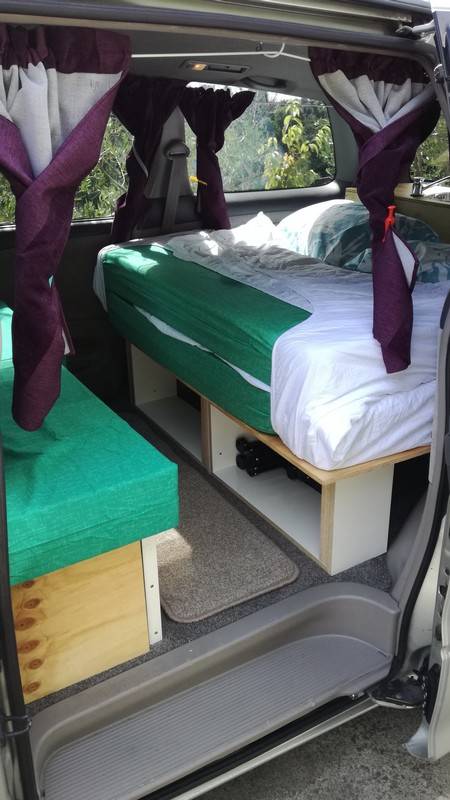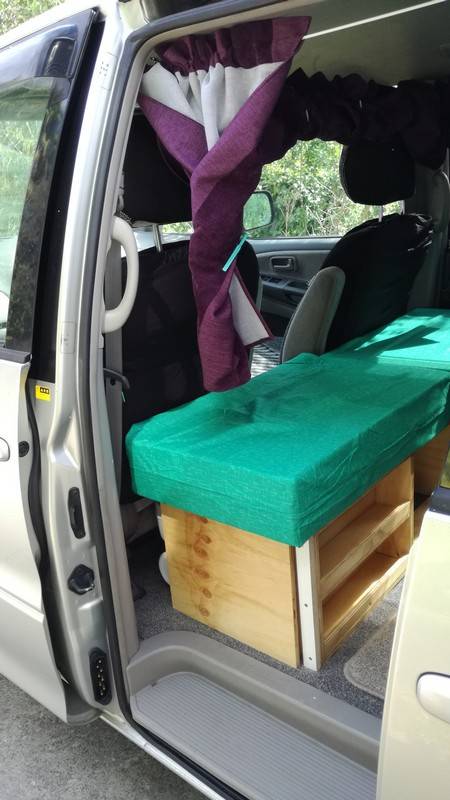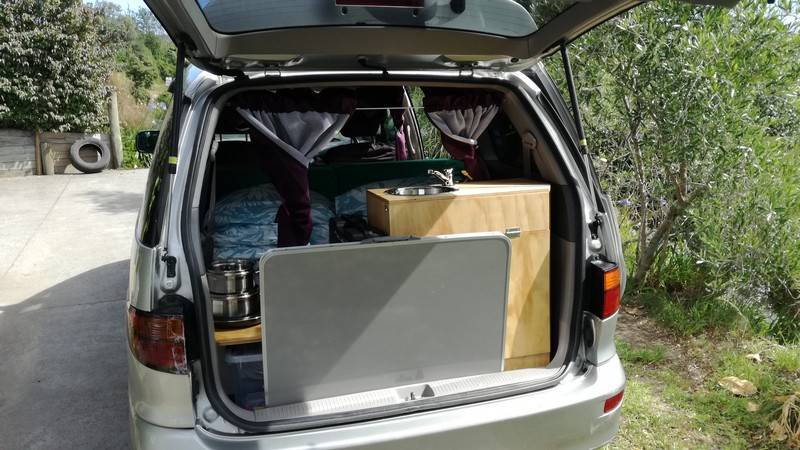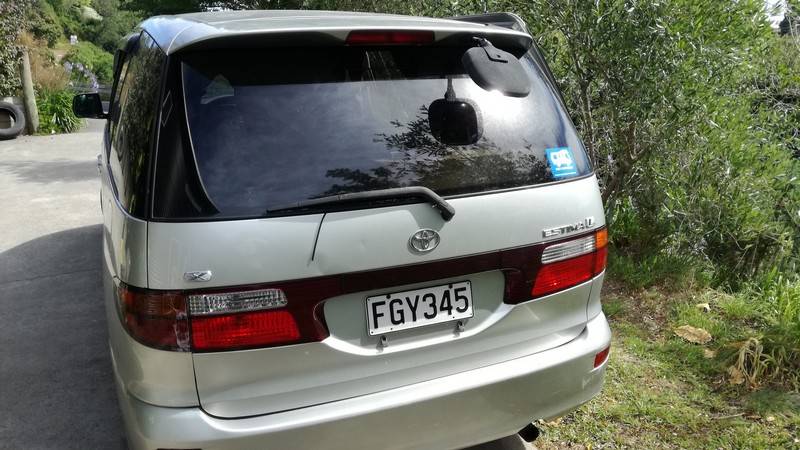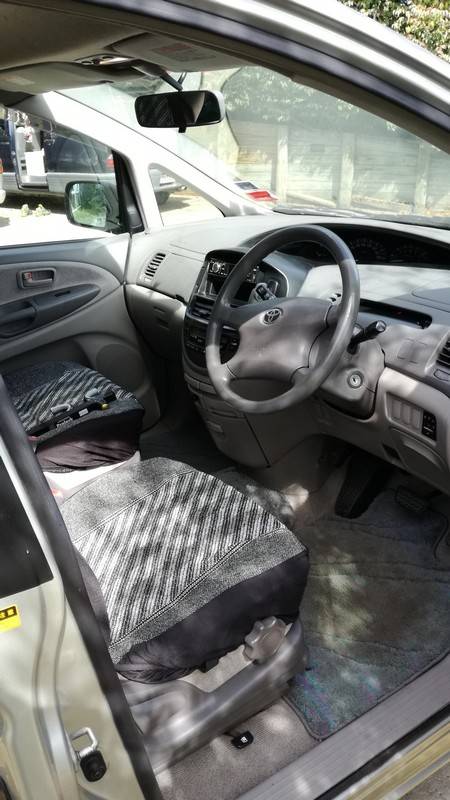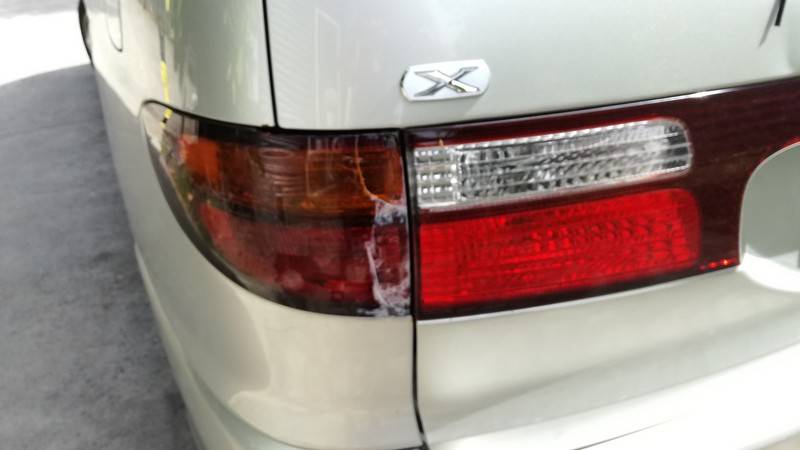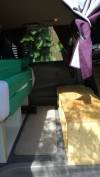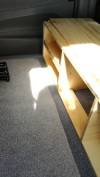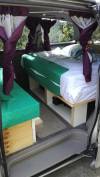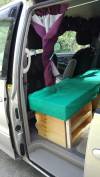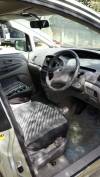 Our vans have a comfortable double bed (1.9m x 1.35m wide) which can be folded back to allow seating inside the van. Our vans come with a loan of a quality foam mattress, mattress protector, and curtains which must be returned with your van. In order to provide new linen for each van we charge $140 for a linen pack which includes duvet and duvet cover, fitted sheet, two pillows, and pillow covers. If you would rather, we have good condition, previously used linen available for a $70 fee to offset cleaning and replacement costs. Similarly we can provide a new set of camping equipment (chairs, table, plates, cutlery, cooker stove, pots, a frying pan, tea towels) for $140 or a previously used set for a $70 fee to offset cleaning and replacement costs. The linen pack and camping equipment is being purchased and so you are welcome to on-sell it or give it away when you have finished your travels. Alternatively you can leave it with the van when it is returned and we will either recycle it or dispose of it for you. We also have a few low-cost 24l cooler boxes for $90. These can also usually be purchased direct from a local RV/Camping store.